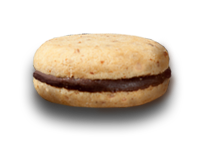 Baci di Dama by Rippa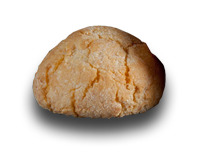 Soft Macaroons by Rippa
Baci di Dama by Rippa
Rippa's bakery still produces its famous Baci di Dama Rippa through a handcrafted process. This small masterpiece, intended for the pleasure of your palate, passes through a scrupulous production in order to keep unchanged those peculiarities of a biscuit still hedged in the place where it was born. Baci di Dama are in fact the historical product of Rippa's bakery, created for the first time here, in Sale, where tradition is still alive.

Soft Macaroons by Rippa
Amaretti Morbidi (Soft Macaroons) are a product belonging to the pastry traditions as well as the other side of Rippa's confectionery art. Their refined taste and softness make Amaretti Morbidi such an appreciated gift, a touch of sweet style in the name of the best Italian traditions. As for Baci di Dama, also Amaretti Morbidi must comply with stringent quality requirements.

In the name of traditions
Baci di Dama and Amaretti Morbidi (Soft Macaroons) are among the historical sweets of the Italian pastry art, and a tribute to italian traditions. Rippa's bakery produces its masterpieces accurately following its authentic and original recipe, and properly processing raw materials which are always carefully selected and continuously controlled.
He who offers Baci di Dama or Amaretti Morbidi (Soft Macaroons) by Rippa to its customers, can count on the authenticity of these products, which are scrupulously monitored during every step of the production, starting from the selection of their ingredients.